- Fraser Fir -

The perfect Christmas Tree. Not only is the needle retention great, it also smells wonderful. It has strong, spaced-out branches that are very easy to decorate, especially with heavy ornaments.The beautiful shape along with the soft silvery-green needles truly makes this most idealistic and best looking Christmas Tree.
- Fraser Fir Wreaths -
We feel that Fraser Fir wreaths are the most durable. They are the longest-lasting of the wreaths we have tested. Not only is the smell absolutely wonderful, but the needle retention is by far the best of any wreath. They make great gifts and are a must have for your holiday season!

---
- Canaan Fir -

- Balsam Fir -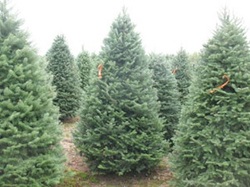 We feel the Balsam Fir has the strongest scent of all choices, which is why it's the most popular Christmas Tree on the market. It has a beautiful shape with full branches that are soft to the touch, and that makes decorating very easy.

---
- Colorado Blue Spruce -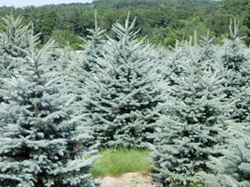 Considered to have the best needle retention amongst the spruce family, it's color is more light-blue than green. The needles are about 1 1/2" long on very strong branches. They are great to decorate, but tricky to handle. Gloves can make this beautiful tree easier to work with. Blue Spruce grow a very nice shape early on and is our top choice for what we call a table tree.

---
- White Pine -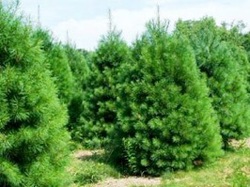 The White Pine has beautiful long green needles and their retention is considered to be very good. The branches are lush and appealing but may not be a good choice if you plan on decorating with heavy ornaments, although the tree is perfect for some fun popcorn garland. White Pine branches are often used in garlands, wreaths, flower boxes, and can make for beautiful centerpieces. It has the style and elegance of a beautiful tree all on it's own.

---